In the wake of Donald Trump's election, we have seen a new wave of racism and bigotry across the globe. Malcolm Turnbull's government is increasing its scapegoating of refugees and migrants as it flounders in the polls. The threat of war, racism and inequality are growing. But socialists like Jeremy Corbyn in Britain and Bernie Sanders in the US have shown that anger with the political system can also be pulled to the left. Keep Left is an annual two-day conference of revolutionary ideas organised by Solidarity. Come along to join the discussion about how we can win change.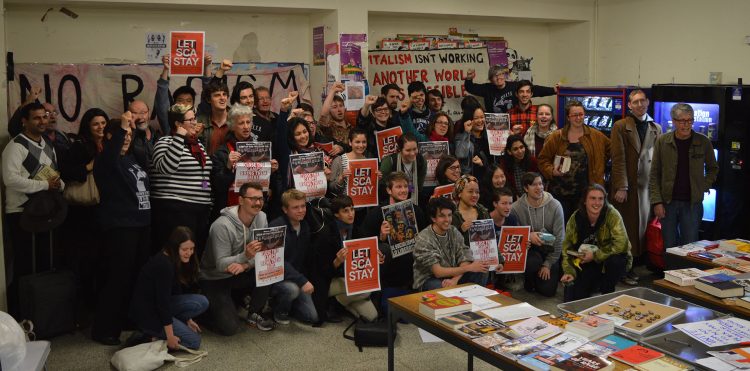 Sixteen sessions including:
Fighting Trump and Turnbull – Islamophobia and the 'war on terror'
150 years on: Reading Capital in the 21st century
Teaching, testing and the crisis in education
Russia 1917: when workers shook the world
Trump, China: Imperialism and the New World Order
Refugees, Racism and the politics of Borders
TWO DAYS
SOLIDARITY PRICE
$65.00
ONE DAY
SOLIDARITY PRICE
$35.00
TWO DAYS
STUDENT/CONCESSION
$20.00
ONE DAY
STUDENT/CONCESSION
$12.00
INDIVIDUAL SESSION
TICKETS AVAILABLE ON THE DOOR
Special film screening: We are many
We Are Many is an outstanding documentary about the biggest protest event in human history – the international protests against the Iraq war in 2003. It features inspiring footage and interviews with participants such as Tariq Ali, Jeremy Corbyn, Noam Chomsky and Ken Loach, to discuss what the protests achieved.
6:30pm Friday August 11, Merewether building, Sydney University.
Venue
Keep Left 2017 will be held in the Merewether building, Sydney University.